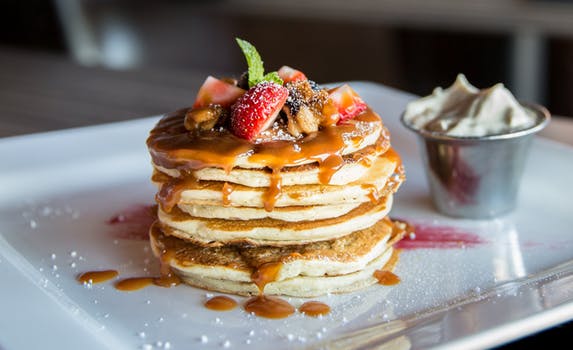 Prep: 10 MIN
Total: 60 MIN
Servings: 4
Ingredients
Pancakes
2 cups Original Bisquick™ mix
2 teaspoons baking powder
1/3 cup granulated sugar
2 tablespoons unsalted butter, melted and cooled
1 cup milk
2 eggs
2 tablespoons instant coffee granules or crystals
Whipped cream, for serving
Caramel Syrup
1 cup packed brown sugar
1/2 cup whipping cream
1/4 cup unsalted butter
Pinch of salt
2 teaspoons vanilla
Steps
1. In large bowl, mix Bisquick mix, baking powder and granulated sugar. In medium bowl, beat melted butter, milk, eggs and instant coffee with whisk until coffee is dissolved and mixture is smooth. Add liquid mixture to bowl of dry ingredients, and mix until incorporated (mixture may be lumpy).
2. Grease griddle or 10-inch skillet; heat over medium heat. Pour 1/3 cupfuls of batter onto griddle. Cook until edges are dry and surface is bubbly, about 3 minutes. Turn; cook 2 minutes longer. Repeat to use up remaining batter.
3. In 1-quart saucepan, mix all Caramel Syrup ingredients except vanilla. Heat over medium heat, stirring until sugar is dissolved and mixture is smooth. Heat to boiling, and cook until syrup is thickened, 5 to 7 minutes. Remove from heat; add vanilla. Syrup will thicken upon cooling. If it becomes too thick, return saucepan to low heat for a few minutes until soft.
4. Serve pancakes with whipped cream and caramel syrup.